Distrust of the Covid-19 vaccine: barriers to the decision to vaccinate
Keywords:
Covid-19, vaccination, vaccine acceptance, vaccine hesitancy, vaccine safety, vaccine effectiveness
Abstract
One of the most effective ways to prevent Covid-19 is vaccination. Vaccine hesitancy and distrust is a global challenge. The aim of the research is to study the distrust of the vaccine against Covid-19 and the barriers preventing the decision to be vaccinated. A qualitative study using in-depth interviews was conducted with 10 respondents who were not vaccinated against Covid-19. Three main categories related to vaccination difficulties were identified: lack of confidence (in terms of effectiveness, safety), complacency (perception that the virus is not dangerous and does not harm us) and disadvantage (problem of availability of immunization services, time, distance, etc.) barriers). The effectiveness of the Covid-19 vaccine, the safety of the Covid-19 vaccine, the actual need for the vaccine and the availability of the vaccine were evaluated under these categories. results. Research has shown that people's decision to vaccinate is influenced by distrust of its effectiveness and safety, and skepticism about the real need. At the same time, they are not unconditionally against and partially share the benefits of vaccination. However, they are not sure about the results of immunization. Doubt the safety of the vaccine created in a short period of time. The risk of side effects and adverse health effects is no less a cause for concern.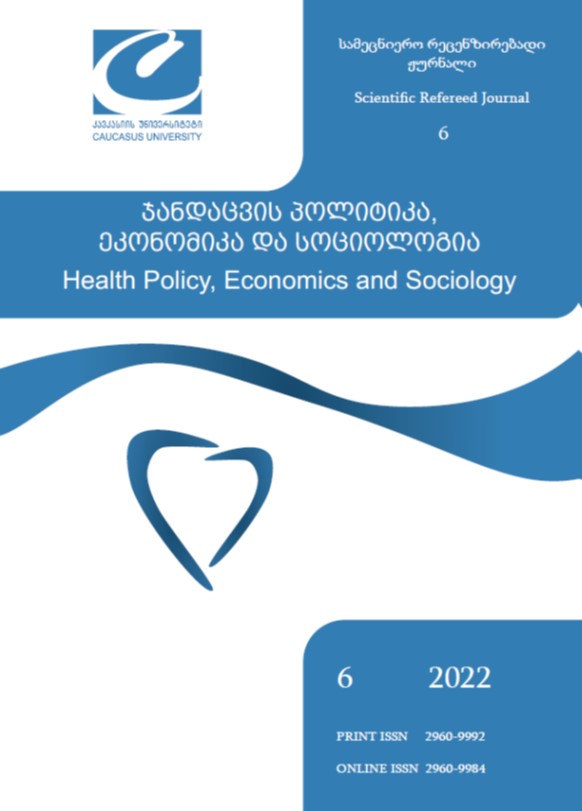 Downloads
How to Cite
Shengelia, M. (2022). Distrust of the Covid-19 vaccine: barriers to the decision to vaccinate. Health Policy, Economics and Sociology, 6. Retrieved from https://heconomic.cu.edu.ge/index.php/healthecosoc/article/view/6305
Section
Original Research
License
This work is licensed under a Creative Commons Attribution 4.0 International License.