Reasons for Smoking Among the Teenagers of Georgia
Keywords:
tobacco consumption, behavior
Abstract
Influence on tobacco consumption makes social environment. Especially such factors as the friend's and parent's attitude towards behavior, also level of the information about tobacco real damages. This research aims to identify the characteristics and factors that contribute to tobacco use in the launch of the teenager. Methodology: Qualitative research method was carried out in direct interviews, among young people selected by the non-random selection principle. Results: All respondents have consumed tobacco consumption at a juvenile age. In all cases, the community played a decisive role in tobacco consumption. Respondents started smoking in the circle of friends and classmates. Interviews show, that the youth's organism responded negatively to tobacco consumption, but despite this, they continued to do this behavior. The surveyor showed that consumption of tobacco, in the teenagers, is perceived as good reputable social behavior. Those who didn't consumption nowadays tobacco, says, that they didn't have communication with those community, in which relationship times was started smoking. Conclusion: It is advisable to encourage tobacco use restrictions. In this regard, it is welcome to introduce the Law on Tobacco Control in Georgia that prohibits tobacco consumption and advertising in public places, particularly in educational and other institutions, as well as selling tobacco products near schools.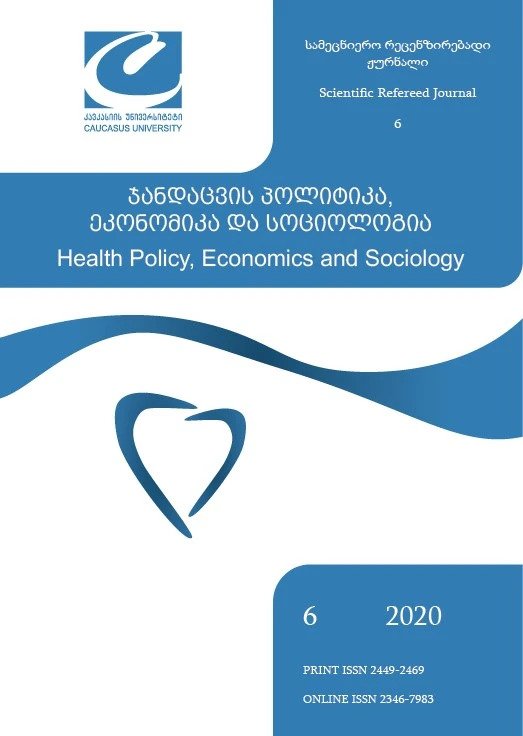 Downloads
How to Cite
Nemsadze, D., & Verulava, T. (2020). Reasons for Smoking Among the Teenagers of Georgia . Health Policy, Economics and Sociology, 4, 7–15. Retrieved from https://heconomic.cu.edu.ge/index.php/healthecosoc/article/view/6080
Section
Original Research
License
Copyright (c) 2020 Health Policy, Economics and Sociology
This work is licensed under a Creative Commons Attribution 4.0 International License.