Awareness and Behavior of Beneficiaries of Hepatitis C Elimination Program
Keywords:
Hepatitis C virus, HCV, Hepatitis C elimination program, Georgia, HCV prevention
Abstract
The goal of the research was to check awareness and identify behavioral patterns of people engaged in Hepatitis C government program from 2015 and onwards. It must be mentioned, that every participant of this research is beneficiary of non-government organization New Vector and receive a service on Hepatitis C elimination program base. Methodology: The research was conducted using both Qualitative and Quantitative methods. On the early stages, using secondary information we analyzed general and demographic data, that provided information about research target's social and economical wellbeing. Results: The research showed, that drug users engaged in Hepatitis C elimination program, are middle aged and unemployed men, which are engaged in unprotected sexual acts and injection patterns. The ratio of people with antibodies among the ones tested in organization was 26.3%. After confirmation tests the results were 42.6%. After qualitative research on three focus groups the main hepatitis C barriers were found out in general and in relation with drug usage. Recommendations: For main problems were identified: 1. Financial barrier – diagnostics should be free. 2. Geographical barrier – at least one regional center should be in regions of Georgia, that will work with one window principle. 3. Community awareness – destroying myths regarding involvment in programs. 4. Decriminalization - laws must be adjusted in favor of prevalence groups. Respondents awareness status is satisfactory, but it must be noted, that they gained the knowledge only after being infected and engaging in government program.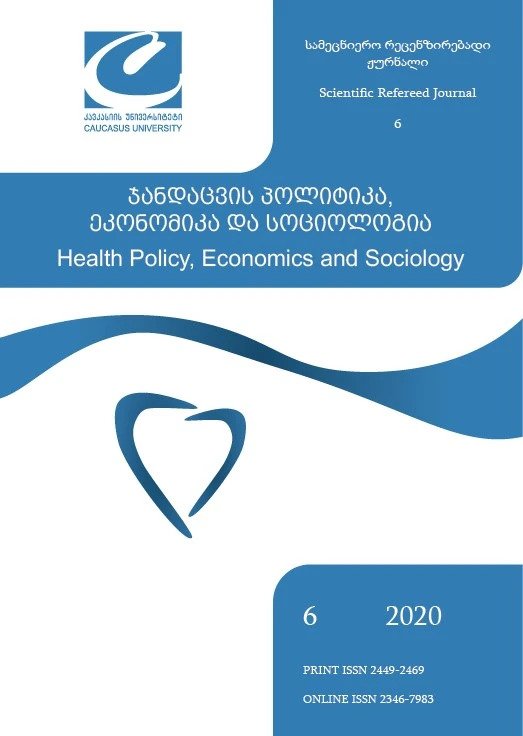 Downloads
How to Cite
Liklikadze, M., Jibuti, M., Papiashvili, A., & Verulava, T. (2020). Awareness and Behavior of Beneficiaries of Hepatitis C Elimination Program . Health Policy, Economics and Sociology, 4. Retrieved from https://heconomic.cu.edu.ge/index.php/healthecosoc/article/view/6172
Section
Original Research
License
Copyright (c) 2020 Health Policy, Economics and Sociology
This work is licensed under a Creative Commons Attribution 4.0 International License.