Orthodox attitudes towards euthanasia
Keywords:
Euthanasia, religious
Abstract
Introduction: Nowadays the right of Euthanasia is the subject of the worldwide discussion, since this is one of the controversial medical, religious, political or ethical issues. The reason for the study is to find out orthodox parish's opinion regarding the Euthanasia. Methodology:  Within the frameworks of quantitative research interviewees have been interviewed by using semi-structured questionnaire. Results, discussion: The study detected that the most of the interviewees (81%) had information regarding the Euthanasia.  Dominant opinion is that the Euthanasia is:  consent of the life termination during the illness, when there is no solution and recovery is not possible or "a person with incurable disease voluntarily decides to terminate his/her life painlessly. Those who don't agree with Euthanasia use religious facts, (thy religion prohibits etc.) Those who agree with Euthanasia use human legal rights and individual's free will as arguments. The most of the interviewees (86%) have never heard about Euthanasia practice in Georgia. Most of them (71%) knew that church prohibits Euthanasia. The 39% of interviewees knew that Euthanasia is a sound decision from the point of medicine. Conclusion: it is advisable to increase public awareness about Euthanasia from the point of religion, medicine, culture and law. It is recommended to increase the number of such studies.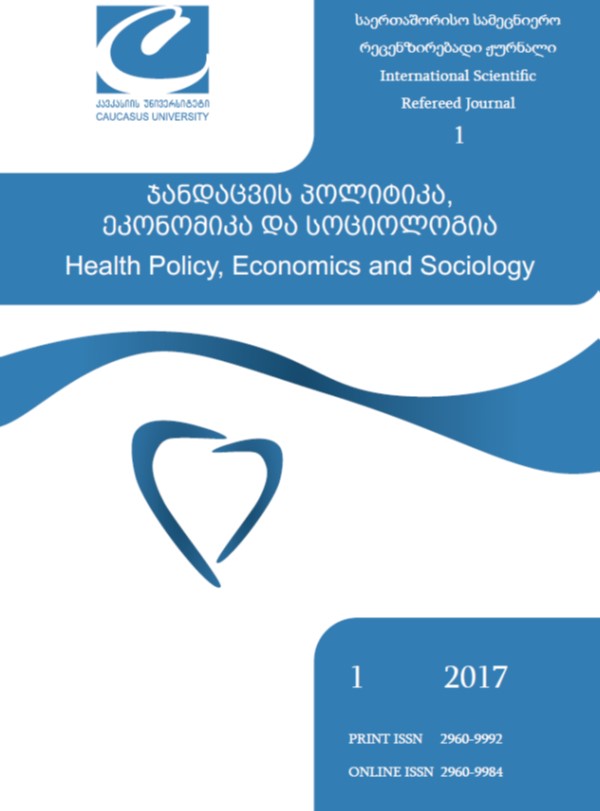 Downloads
How to Cite
Mamulashvili, M., & Verulava, T. (2023). Orthodox attitudes towards euthanasia. Health Policy, Economics and Sociology, 1, 7–16. Retrieved from https://heconomic.cu.edu.ge/index.php/healthecosoc/article/view/6471
Section
Original Research
License
This work is licensed under a Creative Commons Attribution 4.0 International License.